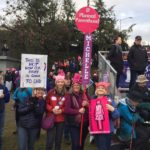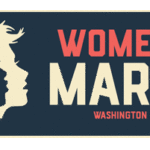 The Seattle Women's March begins on Saturday January 21 with a 10 am rally at Judkins Park that is followed by a 3.6-mile march to the Seattle Center. National media have focused on the rally in Washington, DC, but there are more than 600 "sister events" around country and the world.
If you'd like to march with the 32nd Dems, we'll be near the Earth banner in Judkins Park by 10 am. Look for the 32LD Banner. Plan to arrive early; organizers expect 50,000 people based upon online RSVPs.
March Map
Marchers will depart Judkins Park in groups or waves. (Think about how organizers pace the start of a marathon race.)
From 20th Avenue South and South Weller Street, the route heads north on 20th Avenue South
West on South Jackson Street
North on 4th Avenue
West on Denny Way, and
North on 2nd Avenue North into Seattle Center
The Seattle Department of Transportation released this map of the route:
Public transportation
If you're thinking about using public transportation, King County Metro noted on Thursday that there will be extra buses on an as needed ("on demand") basis. These extra buses will not show up in Trip Planner or OneBus Away.
A commenter on the West Seattle Blog reported that there is an Uber promotion:
Uber Seattle is offering $5 off uberPOOL trips for anyone participating in the Women's March on Seattle on Saturday, January 21. uberPOOL enables people going to the same place at the same time to share the journey. Here's how to access your discounted ride:

Open the Uber app and tap 'Payment' then 'Promotions'
Enter the promo code WMWA2017
Request an uberPOOL ride on Saturday, January 21* and the $5 discount will automatically apply

*The WMWA2017 promotion is available for uberPOOL only and will be available for rides that start or end at Judkins Park or Seattle Center on January 21 between 8 am and 4 pm. This promotion is good for new and existing users.