The 32nd District Dems proudly present:
2017 Winter Auction Fundraiser and Festivus Party
featuring the presentation of the 2017 32nd Democrats Service Awards
WHEN: Saturday, December 2nd, 2017
WHERE
: Masonic Center 753 N 185th St, Shoreline, WA 98133 
MAP
TIME: 5:00pm till 9:00pm
DINNER DONATION
: $10 per person, however – no one is turned away!  Donate at the door or
Click here
to purchase early tickets
DETAILS: Just like last year, we will have a Live Auction, Silent Auction, and some raffle items (white elephant type of items that you contribute).
Start thinking about what you'd like to donate. Bring your donations to any of our meetings and/or bring your donation on the night of the auction. The earlier we get the donations, the better!!
Contact Marilyn.Dauer@32democrats.org  for info.
We will prepare a wonderful dinner, dessert and there will also be coffee, and tea and spirits!. We are asking for a suggested donation of $10 per person, however, no one will be turned away!
*Can you bring a dessert to compliment our dinner on Saturday, December 2nd?  – – contact Marilyn Dauer!
**We need help cleaning up at the end of the evening, call Marilyn Dauer at 425-478-9261.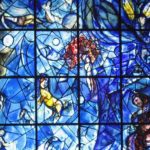 *
*Stained glass panel designed by Marc Chagall and translated into glass through a collaboration with Charles Marq, in Reims, France. The panel hangs in the UN General Assembly building and was created as a memorial to Dag Hammarskjöld and of all those who died for peace. UN Photo. http://www.un.org/en/events/philosophyday/